Sale!
Mansion™ Coop & Run
** LIMITED STOCK ** ORDER NOW OR PUT ON HOLD!
Includes:
Mansion Chicken Coop
Mansion Run
12 Months Warranty
Fast Facts:
Suits: 2-20 hens
Walk right in side this beautiful masterpiece
Weight: 200kg
10mm x 10mm Galvanised Wire Mesh
Heavy Duty Timber: 30mm thick with 12mm cladding (twice that of other coops)
Mansion Coop & Run Overall Measurements:
Length: 5.66m
Width: 2.65m with nesting boxes
For exact footprint measurements to setup your foundations, please download our product brochure
Mansion Coop Measurements:
Length: 2.57m
Width: 2.65m
Height: Hutch: 1.95m / Chimney: 2.4m
Mansion Run Measurements
Length: 3m
Width: 1.89m
Height: 1.88m
When purchasing the Mansion Coop and the Mansion Run together the total length is 5.66m
For those of you wanting to give your girls extra room to roam free, the Mansion Run is ideal! It sits up against the Mansion coop allowing you walk from the run into the coop with ease. The run is the same width and height as the Mansion coop and 3m in length. Made from pine, with 10mm x 10mm galvanised wire mesh fixed to the side, it allows plenty of ventilation whist protecting your hens from predators. Many customers attach multiple runs together in a variety of ways to suit their backyard and number of chickens. Alternatively if you would like to use the enclosure as a free standing run not attached to the Mansion coop, all you need to do is fix wire mesh to the back, to complete the enclosure.
Make your coop las long as you want, with the Mansion extension run. It is the perfect addition to any Mansion chicken coop. It is available for immediate delivery.
Automatic door opener shown in image is not included in the package and can be added for $199. Coops arrive in the raw and need to be painted on arrival before assembly. 
Legal: This product (which is covered by Australian Design Registration Number 201715941 & 201715934) is made, and the MANSION™ trade mark is used, under licence from Kros Investments Pty Ltd, ACN 18 619 418 656
What you need to know
Egg Collection
In order for chickens to lay eggs, they require nesting boxes that are comfy, cosy and tidy. They have to be elevated, shaded and free of draughts, with one side left open. This provides your hens with a calm, secluded environment in which to lay eggs. We have the perfect solution – all of our nesting boxes are custom built with these features in mind so you will have happy, healthy, egg-laying hens! The Mansion features 6 nesting boxes; 1 box per 3 hens is ample because they love to share. We've also made it easy for you to access your fresh eggs with an external nesting box lid. If you are like us and care about the quality, size, colour and frequency of your eggs, then click here to download our Ultimate Eggs Handbook.
Perches
Perches are often overlooked, but they are a critical part of your hen's daily activities, like roosting!  Not any perch will do, we have custom built 50mm perfectly shaped perches to suit your hens' feet. Anything smaller can cause your hens to have sore feet and create further problems. Placement of perches is also important, as chooks need to feel secure when they snuggle up for the night. We have designed our perches to be perfectly placed, encouraging natural roosting instincts. Interested to know more about why perfect perches matter? Then click here to download your free eBook, Perch Importance: Chickens Need A Good Roost To Sleep. Add extra pleasure to your flappy family's coop with our specially designed Chicken Swing perch where your chickens can – and will – sit and swing for hours!
Timber
We only use A grade timber which is kiln dried slowly over months to make sure it's perfectly prepared for a life of longevity. If you want to know more, download our timber information sheet here. When building a house, the stronger and thicker the timber, the better the home – the same applies to our chicken coops. This is why you will notice that our coops weigh far more than any others on the market. This strength and durability allows us to comfortably offer a warranty. Remember your coop arrives raw, you will need to paint it prior to assembly with Duluxe Exterior House Paint to ensure your warranty is valid. Painting will provide a superior longer lasting quality finish and is what we recommend! Painting the coop is just part of the fun, particularly if you get the whole family involved! Check out what others have done here!
Security
Unfortunately, any feathered friend is vulnerable to nasty predators. Therefore, we use 10mm x 10mm galvanised wire mesh, which is fixed firmly in place to stop animals like snakes and rats from getting in. We have also added sliding bolts to help prevent prying creatures pushing the doors open. If you have particularly inquisitive pets, be sure to keep your chickens safe by adding a perimeter fence and concrete base. Talk to us if you have questions – live chat now, or call!  Be sure to have a look at our Auto Door Opener, Motion Sensor Light and Wire Mesh Flooring for the ultimate in security add-ons for your coop. Download your free eBook – The Ultimate Predator Prevention Handbook.
Ventilation
Good ventilation is essential for happy productive hens. The Mansion Chicken Coop benefits from sliding windows, high ceilings and a capped off chimney to ensure an airy, draught-free environment for all seasons.
Cleaning
Cleaning your Backyard Chicken Coop is a bok-bok-breeze. The cleaning tray slides out in with a removable 30mm deep steel tray insert allowing for easy cleaning with zero fuss. It's common to have nasty 'poo traps' in other chicken coops and this can cause problems for you and your hens. We have ensured that these traps don't exist during our design phase. Even the perches are removable! The end result is a well-designed chicken coop that is easy to clean and more hygienic. Try our All Natural Homemade Chicken Coop Cleaner or click here to download your free Easy Guide to Cleaning Your Backyard Chicken Coop.
Roof
Asphalt rubber roofing makes for a magnificent water barrier. We design our roofs to be oversized so the rain falls off and away from the chicken coop, keeping it dry and comfy for your chooks.
×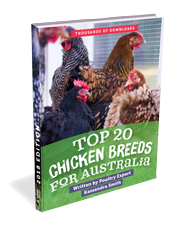 Fill in the form to download our eBook
Thanks! Now downloading....
Hardware/Fittings
Everything you need to construct your chicken coop is included and clearly labelled. Everything has been galvanised for longevity and durability. We are proud of our chicken coops, so every last bolt and screw has been built to last.
Assembly and Instructions
Every item in the box has been numbered and detailed instructions have been included so assembly of your coop is easy and stress free. All the holes have been pre-drilled, plus the locks, hinges, latches, wire mesh and doors are all complete. All you need is a power drill with a Phillips head bit plus an extra pair of hands – simply bolt the big panels together and screw the smaller parts on. Don't worry! We're here to help if you have any questions during assembly on live chat, on the phone or via carrier pigeon. Need more product info? Download the Mansion Product Brochure here.
Delivery
We deliver Australia-wide and our new delivery prices are the cheapest ever! Our courier partners home deliver to 99% of our customers – out woop woop past the black stump is sometimes tricky, so you may need to pick it up from town or provide an alternative address. The best way to get a delivery price is to add all the items you like into your cart and during checkout it will calculate it exactly.
Imagine your backyard with a new, stylish, secure and durable chicken coop. You will be able to boast the best looking hen house in the neighbourhood. Plus, you will have the freshest, best tasting, most vibrant free range eggs around!
Our Chicken Help Guarantee
Need a friend who is a chicken genius? At Backyard Chicken Coops we wrangle poultry matters with both hands. Do you have a girl who has gone a little gloomy? Are the foundations of the pecking order beginning to crumble? Or do you simply need to know the difference between chicken crumble and pellets? Don't let your burning chicken questions char on one side. Turn to us and we will be there to have a cluck about the best chook solutions for you. It's our after-sales guarantee to you.
---
---
Did you know?
Free-range hens lay eggs with; 2 times the omega 3's
4-6 times more vitamin D
3 times the vitamin E
7 times more beta carotene 2/3 more vitamin A
1/3 less cholesterol
1/4 less saturated fat PLUS they're guaranteed to taste better!.